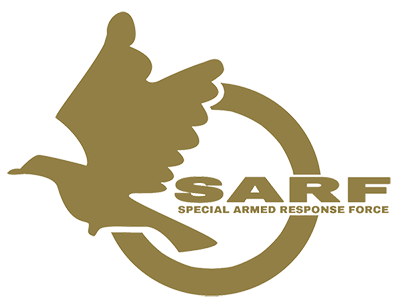 Introduction
The Special Armed Response Force [SARF], led by Commanding Officer Abyssal Dision and Executive Officer Michael Youngling (m88youngling) is an Ace Combat 3 style squadron that flies on the free YSFlight simulator. The squadron has members that are focused on air combat, 3D modeling and modding for YSFlight, combat intelligence and some even have a combination of all these areas. SARF is dedicated to helping improve the quality of combat on YSFlight in general, where nearly anything is possible due to the easy to mod nature of the free YSFlight simulator. The entire aircraft inventory of SARF is composed of aircraft from Ace Combat 3, which includes planes such as the R-101 Delphinus #1, F-16XF Gyrfalcon, Su-37U Superflanker, the X-49 Night Raven and more.
Universal Peace Enforcement Organization [UPEO] F-16XFU Gyrfalcons escort a UPEO C-17B Globemaster II
The aircraft seen in the image above were modeled in blender and exported into the game, and have their own programmed performance. These aircraft can also be used on servers for multiplayer and for combat.
UPEO EF-2000E Typhoon IIs flying North of Honolulu
YSFlight
YSFlight is a free flight simulator created by CaptainYS with a large community following it composed of modders and players of various varieties, such as combat, civilian virtual airlines and aerobatics.
General Resource Defense Force [GRDF] F-16XFs flying South of Honolulu
Organization
SARF operates on many time zones, and organizes its tactical flights based on compatible time zones. SARF has four divisions:
Universal Peace Enforcement Organization [UPEO]

General Resource Defense Force [GRDF]

Neucom Emergency Unit [NEU]

Ouroboros [OURO]
Currently only the UPEO and NEU divisions are recruiting due to uniformity being a necessity for combat effectiveness. However, recruitment for the other divisions will open once enough members are reached, and that will open the door for members to transfer to divisions they may prefer later.
SARF utilizes an XP reward system for contributing to the squadron. If a SARF pilot uses an aircraft within their XP ranking restriction, uses their SARF division tag before their nickname (Ex. [UPEO]Rena), and completes certain objectives such as running patrols on their own, then the pilot can achieve XP points to rank their performance. The more XP you have, the higher rank you will achieve. The higher your rank, the more aircraft you will have available to you to gain XP with. This is known as your XP aircraft ranking restriction.
SARF operates its own discord server that members may use to communicate for operations.
Neo United Nations
SARF is also part of an alliance of squadrons on YSFlight known as the Neo United Nations.
The Neo United Nations' squadrons combined together are known as the Neo United Nations Independent Military Forces [NUNIMF]. The NUNIMF runs joint operations between its squadrons to accomplish goals and to help stimulate the community. The Neo United Nations operates Madobe Naval Air Station in Hawaii on a community YSFlight server on Molokai island. SARF, the largest squadron in the NUN, works to defend Madobe NAS from the aggression of the VFA-49 Ghost Hawks, a rivaling squadron of considerable size. However, this size is much too large for the community, dwarfing all other squadrons and new members for SARF are required to challenge their superiority effectively.
SARF is looking for pilots interested in the Ace Combat series, Ace Combat 3, and air combat to fly on YSFlight. With SARF you can learn to fly combat sorties of various kinds, learn real world brevity and tactics, and employ the latest aircraft in battle for control of the skies.
Join SARF today! Reply to this post or private message me for more information and invitation to our Discord server, and take a visit to our website here!
Detail of the advanced Ouroboros X-49 Night Raven's engines. Like the other aircraft seen here, this was modeled in Blender and exported into YSFlight with its own
performance capability programmed in with .dat files.